Innovating Healthcare through Data Transformations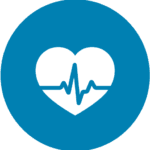 efficiency gains which improved institutional performance.
Setting the Stage: The Landscape of Healthcare Data
Faced with a rapidly evolving healthcare landscape, a prominent healthcare organization within the Pennsylvania tri-state area, recognized the need to modernize its data management capabilities.  This includes efforts to dramatically disrupt the status quo and enhance the ability of Primary Care Physicians and specialists to provide the highest level of service to patients. 
The mission of the company is not only to improve healthcare, but to make it more affordable for everyone. As such, they partner with physicians in the delivery of patient-centric, quality care that helps those receiving medical services to get and stay healthy.  As part of meeting the mission, the company is undergoing multi-dimensional, fast paced growth, and has engaged EON Collective to revamp its operating model and data strategy.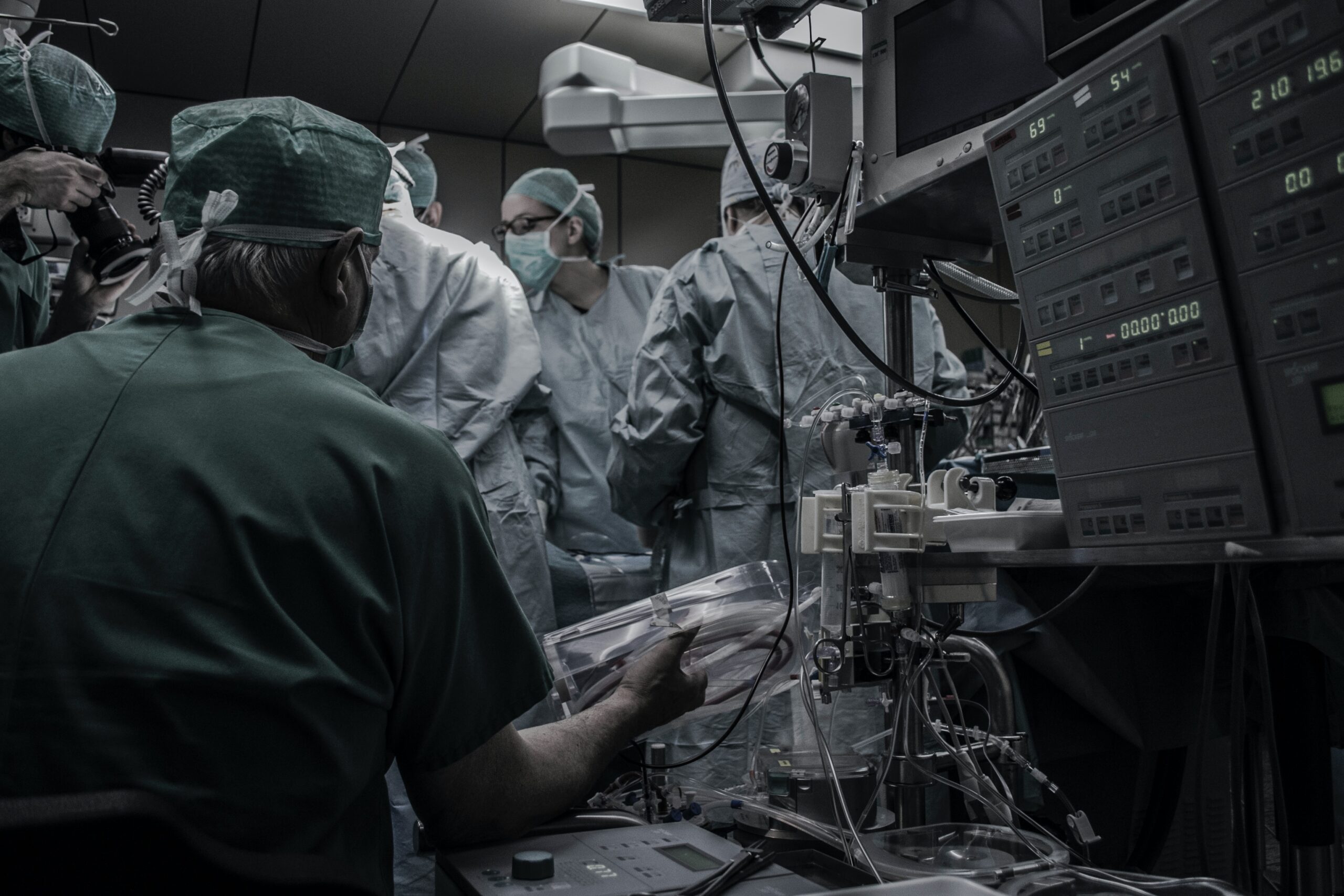 Obstacles in Healthcare Data Management
In this data transformation journey, we explore some of the challenges they encountered, common in the dynamic and evolving healthcare industry:
Their existing data landscape had an array of data sources with varying structure and quality standards. It was an indicator of their long-standing history, presenting opportunities for standardization and quality enhancement for more consistent and reliable insights.
Initially, their data processes were manual, slow and error-prone. They recognized the potential for enhanced efficiency and accuracy through automation, paving way for faster and more scalable decision-making.
3. Historical Data Storage and Auditability
Secure storage and easy retrieval of historical data presented a challenge. They acknowledged the need for enhanced audit trails and security, to strengthen compliance and data integrity.
4. Embracing Modern Data Practices
In the face of rapid technological advancements, we encountered natural hesitations in adopting new methodologies. Understanding the importance of staying current, we focused on demystifying these new practices and fostering a culture of embracing change for continuous improvement.
Choosing suitable data tools from a saturated market was daunting, compounded by concerns over integration with established systems and processes.
The Strategic Path: Our Approach to Modernizing Healthcare Data
Strategic Alignment –

The project's goal was to synchronize data management with the broader enterprise objectives, emphasizing service delivery and operational efficiency. 

Data Strategy Launch – We initiated the development of an Enterprise Data Strategy, focused on modernizing the operating model, c

reating a strategic data management framework and uninterrupted information flow to empower enterprise operations.

Data Modernization Initiative aimed at

transitioning to advanced technology platforms, implementing robust data governance and quality controls, and minimizing manual processes to boost operational efficiency and cut costs

.
Data Vault 2.0 Methodology
We helped them adopt the Data Vault 2.0 methodology, a modern and agile approach to building efficient data repositories and support the evolving business needs of the company. This methodology is integral for enabling efficient operational support for multi-source Data Acquisition, Data Management, Business Intelligence, Analytics, and Data Science requirements.
The agile and modern design principles of the Data Vault 2.0 framework ensure scalable, flexible, and consistent data systems that enhance operational flexibility and reduce total ownership costs (TCO), while also ensuring accountable and compliant data governance.
Cross-Functional Teamwork
Our work serves as a blueprint by providing a framework to ensure consistent execution, strategic alignment, and collaboration across various business functions, platforms, and IT architecture—laying the groundwork for a cohesive and future-ready technological ecosystem. Continuous monitoring and governance mechanisms have also been put in place to evolve with business and operational priorities.
Acknowledging the magnitude of organizational change, we have provided extensive training, support, and hands-on co-building opportunities, integrating client resources with the development teams. We have designed communications to build awareness of the business rationale for the revamped data strategy and to reinforce the vision. Managing this inherent change is one of EON'S core competencies and key to client readiness to become a data-driven work culture.
Over the years, we have forged strong relationships with our partner technologie which have proven invaluable in client engagements. This deep-rooted alliance enables us to seamlessly integrate these technologies in client environments, crafting a tailored solution to address each unique challenge. Here's a glimpse into how each technology partner was used to address the distinct challenges faced:
Snowflake – Transitioning to Snowflake facilitated a cloud-based data management environment, significantly improving scalability and performance which was crucial to handle data from diverse legacy sources.

VaultSpeed was instrumental in supporting Data Vault methodology, enhancing data quality, governance, and trust among stakeholders.

Collibra simplified data management and governance, replacing manual analysis with structured data handling processes for consistency and compliance.

DataOps.live was key in integrating various tools and methodologies into a coherent framework, simplifying the tool selection dilemma and ensuring seamless operation.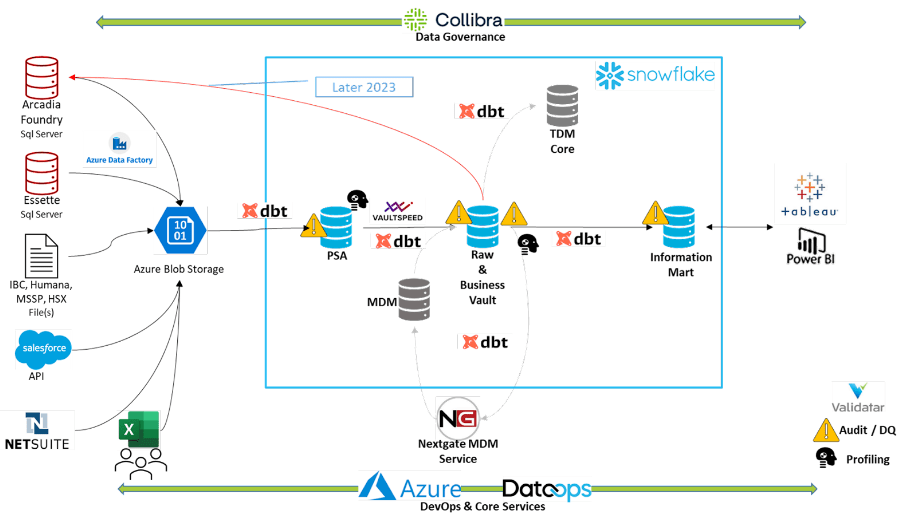 The Transformation Beyond Modernization
1. Governance and Leadership Enhancements:
Establishment of a centralized, enterprise-wide Data Governance Office and an Executive Steering Committee for strategic oversight.

Implementation of data governance metrics and comprehensive business glossary to standardize and measure data management practices.

Increased role clarity and interdepartmental collaboration, supported by targeted resource funding to enhance governance effectiveness.
Operational Efficiency and Quality Control:
Business Data Steward roles to ensure data is managed effectively and accurately. The adoption of clear data stewardship and quality remediation processes is expected to significantly reduce operational inefficiencies and data-related errors, directly enhancing service delivery and reliability.

Improved visibility into data quality remediation processes, coupled with well-defined proactive processes, to preemptively address potential data issues.

Regular communications and training from the Data Governance Office (DGO) designed to

enable an informed, data centric

workforce, ready to execute on the company's

strategy and drive business value.
Risk Management and Scalability:
Enhanced data access controls to mitigate regulatory risks and ensure compliance with industry standards.

Development of scalable solutions for a multi-payer environment, catering to the complex needs of healthcare payers.

By funding departmental resources for data management and emphasizing scalable solutions, the company is positioning itself for sustainable growth and adaptability.

This scalability is critical in a complex, multi-payer environment, and ensures the company

can respond quickly to market changes and patient needs.
The global big data healthcare market has seen significant growth, increasing from $20.31 billion in 2022 to $22.73 billion in 2023. This represents a compound annual growth rate (CAGR) of 11.9%